It was a bitterly cold December day in Germany as my family and I bundled up in scarves and woolens, and drove to the historic city of Ulm.
Home to a magnificent cathedral and a fabulous Medieval Christmas Market (I wrote about it here), it also boasts the World's Largest bread museum: Museum of Bread Culture (Museum Der Brotkultur).
Now I must take this moment to give kudos to my family for actually following me when I excitedly beckoned them down a narrow alley with the words, "Hey guys, look! It's a Bread Museum!"
With amused shakes of their heads and shrugs of "why not" we all trooped in out of the cold, thoroughly delighting the concierge who grinned happily at our arrival.
For a mere 3.50 Euro we were given headphones for an audio tour of the huge 5-story historic former storehouse.
In all honesty we did not expect much from a bread museum, but it turned out to be quite fascinating and well worth the modest admission fee.
The first floor featured miniature kitchens and bakeries as they would've looked down through the centuries. I loved the large, open ones with gleaming copper pots hanging from the walls and shelves lined with pewter plates. The audio guide brought the place to life, enriching each scene with great stories and informative history.
Other floors featured historic displays explaining the importance of bread in society and culture. I was intrigued and horrified to learn how politicians such as Adolf Hitler and Stalin used bread as an effective yet devastating tool of manipulation with the people they ruled. I was staggered by the pamphlets actually distributed by the Nazi government with recipes for how to make bread out of WOOD! I can scarcely imagine the desperation that would lead people to chop, soak, shred and pulverize wood into "flour" just to have something to feed their family for dinner.
I loved seeing the paintings depicting warm family scenes, children clustered around the kitchen table while their beaming mother slathered thick butter onto their slices of bread. I was charmed by the exquisite old art work, gorgeous silver platters and wonderful wooden bread bowls. They made me want to roll up my sleeves then and there to start kneading and shaping yeasty loaves of bread.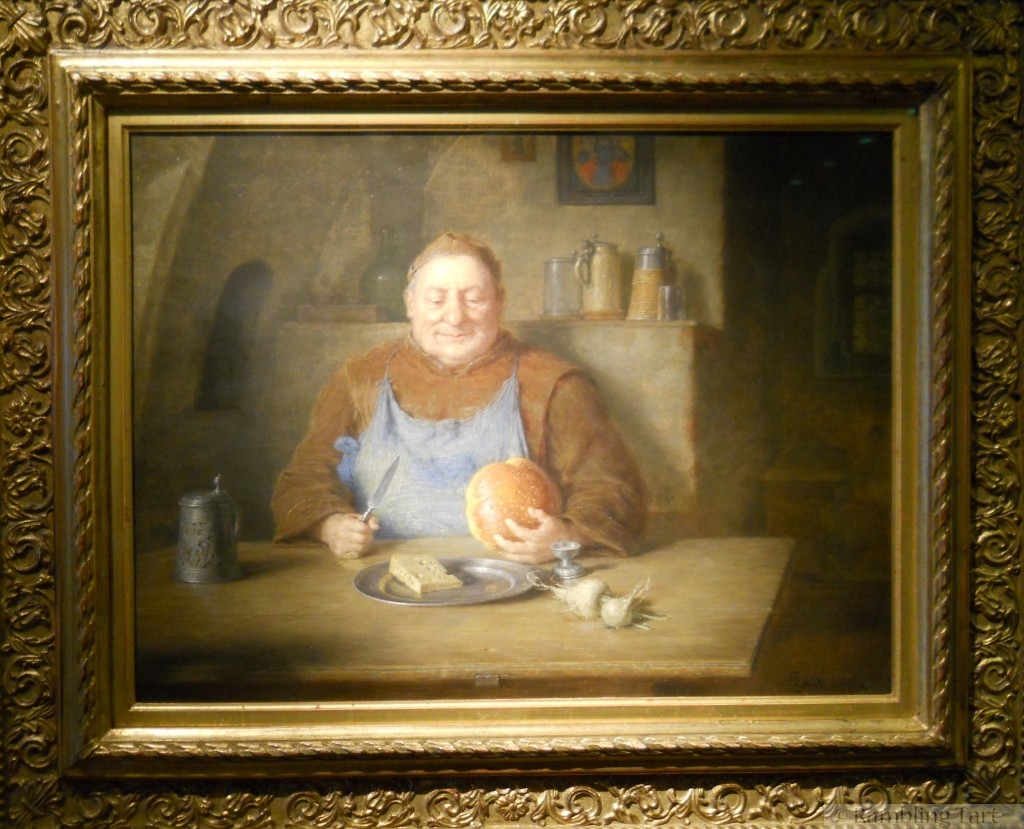 I also enjoyed the dioramas that showed bakeries as they looked in medieval Europe, ancient Egypt and bustling Rome.
I have often wondered what it would be like to grind grain by hand, and at the Museum of Bread Culture I got my chance. Gripping a heavy stone with both hands, I twisted and pounded it against the grains skidding across the surface. After only a short time my hands and arms were wearing out and I was filled with gratitude for folks like King Arthur who package flour for me without any of the stones and grit previous generations had to deal with.
There is one thing we did not find at the Museum Der Brotkultur: bread. It was the belief of the founders of the museum, father and son Willy and Hermann Eiselen, that bread is not a museum artifact, but a food that ought to be freshly baked and enjoyed each day.
If you have a hankering to peruse a German bread museum one day, here are a few tips to make it worth your while.
Eat before you go. Trust me, before you're even half way through this place you're going to be craving bread something fierce! Don't worry, there are plenty of cafes just down the street.
Take your time. There is much to see and learn. Find new types of bread you'd like to try or learn stories you can share the next time you bring a fresh-baked loaf to a friend.
Get the audio guide in your language. This was an invaluable asset to my jaunt through the museum and you can skip ahead easily if the topic being discussed is of little interest to you.
Wear comfy shoes. It's a long trek through five floors of displays and you don't want to miss out because your feet are sore.
Visit a local bakery after you're done. The bread will taste even more delicious after learning the history that precedes it.
I left the museum that day with renewed thankfulness for the prosperity and security of my country that not only allows me to eat bread each day, but lavishes me with fruits, vegetables, quality meat and all sorts of delicacies previous generations and current nations could only dream of. We are truly blessed.
Museum Der Brotkultur Information:
LOCATION:
Salzstadelgasse 10
89073 Ulm (Germany)
Phone: +49 731 69955, Fax: +49 731 6021161
E-Mail: info@museum-brotkultur.de
The museum is centrally and conveniently located in the Salzstadel, a historic storehouse (dated from 1592) on the northern edge of the Old City.
Parking in "Salzstadel" underground car park, entrance via Olgastrasse.
Parking for coaches next to the museum.
10 minutes walk from the main railway station or 5 minutes from Ulm Minster.
OPENING TIMES:
Open daily 10 – 17
ADMISSION PRICES:
Adults 3.50 €
Children 2.50€
Senior Citizens / Students / Visitors with Disabilities 2.50 €
Guided tours in English by prior arrangement 45,-€.
info[at]museum-brotkultur.de