I'm hobbling about these days, aching from stem to stern after giving my back a good wrench over the weekend. Bear tore a muscle whilst engaged in medieval combat, so the two of us are quite the pitiful pair as we wobble and moan through our chores and projects, then sink down into squishy chairs and try not to move.
Although we're aching now, we had a marvelous time at the St. Ives Medieval Faire, camping with good friends and making great memories.
It always does us good to get away for these events, to immerse ourselves in medieval life and return home invigorated from living outside, garbed in linen and wool, eating food that smells of wood smoke and drinking wine from earthenware vessels. I hope to share pictures of our adventures with you later this week.
It also does us good to return home, to this place we love so much and are working hard to build into something sustainable, welcoming, and inspiring.
Yesterday evening I had to be out in the magical light that glimmered through the trees. I filled a glass with kumquat juice and soda water and sat in the sunshine, letting it warm and calm me.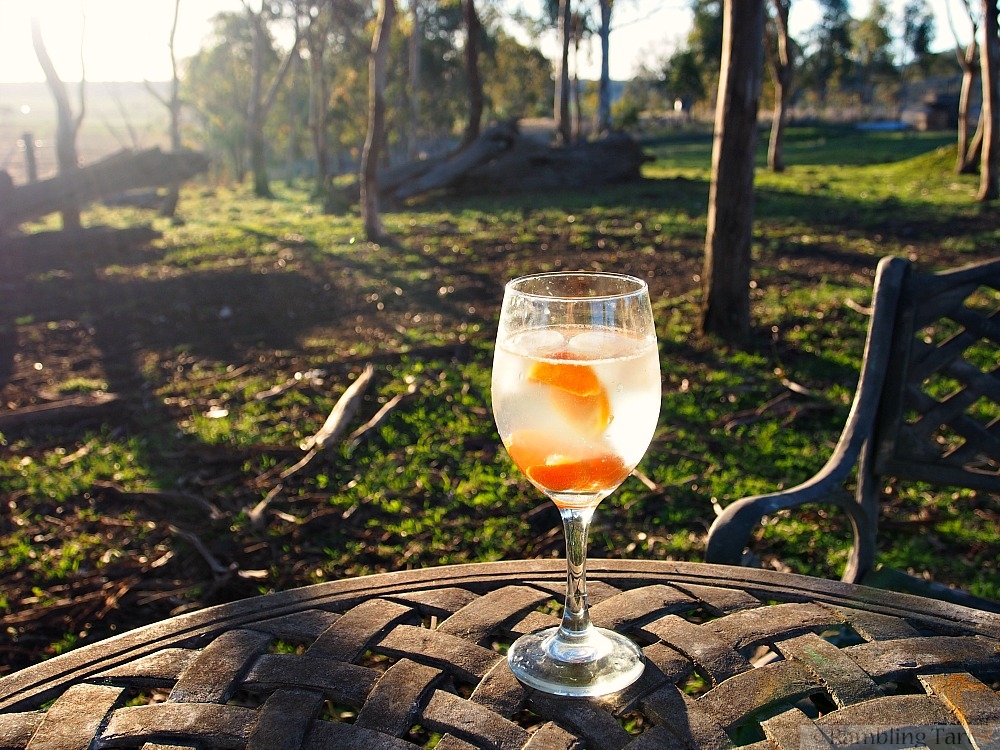 I find it healing to just sit now and then. As the wind sends leaves dancing and the sun warms and birds flit about, the world slows and steadies and, for me at least, it calms my thoughts and slows my breathing and I feel at peace.
I've made time for those moments a lot in recent weeks, and it's helped me navigate some painful situations that in the past would've knocked me flat and set my mind roiling with anxiety. The sitting forces me to stop and rest awhile with whatever is troubling me. It takes away the divide between me and it, and makes the difficulty more companionable, as if between us we can figure this out. And we do.
Sitting outside helps too. Surrounded by plants and trees and creatures that are steadily going about their business inspires me to do the same. I think of these words by Lao Tzu so often:
"Nature does not hurry, yet everything is accomplished."
Or, as Bear says, "softly, softly, catchee monkey."
I'm learning, and it feels so lovely when I manage it.
Yesterday I made slow food. Mexican black beans simmered for hours with garlic, onion, and chilies, shredded pork cooked long and slow until the edges were crispy and the insides fork tender.
Today I'll spend several hours with Oma doing the next steps for the slow foods that we're making: smoking roasts, bacon, and speck that have been brining for a week, bottling potent cherry brandy for Christmas, filling jars with sauerkraut spiced with peppercorns, mustard seeds and caraway seeds.
And, of course, we'll sit awhile, visiting contentedly over cuppas with a cookie or two on the side. xo