This weekend Bear and I traveled to Fort Lytton (near Brisbne) for a meeting. We arrived an hour early, giving me time for a wander through the empty fort, exploring dark tunnels and cavernous rooms with beautiful views of the Brisbane River.
There's something lovely about exploring an abandoned fort. It becomes a blank canvas for the imagination, fed by images and stories from the nearby museum.
I will show you more of this historic place next time, but today I wanted to focus on the wonderful old doors that guard entrances throughout the fort.
This red one is my favorite: the color, the shape, the wonky bits at the bottom. I think I need a red door on our house.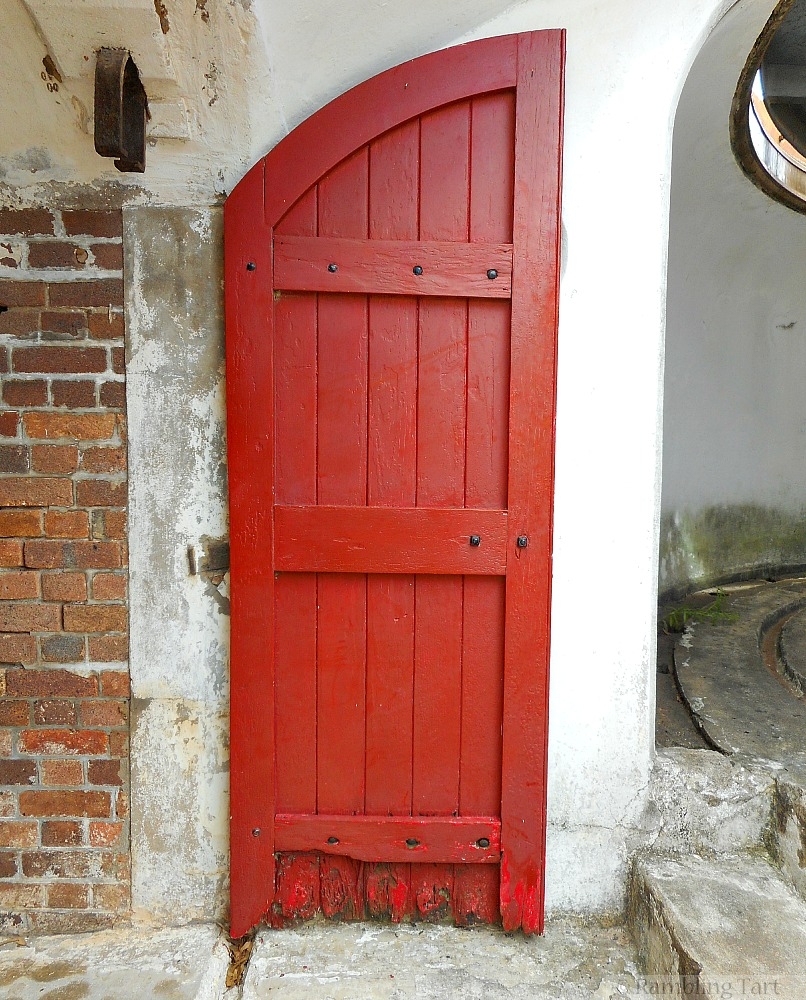 This weathered blue one is massive and sturdy, opening to admit guests who have traversed the bridge to enter Fort Lytton.
This is the most posh of the doors, looking stately and sombre against the aging brick.
I love the contrast between the old brick and the neatly painted door and window frame. Peering through the glass you see a spindle chair, just waiting for someone to sit down and rest awhile with a hot cuppa.
I'm focusing on doors today to set the mood for a special giveaway: one copy of my book "portals" which is filled with black and white images of old doors from around Europe.
To enter the giveaway, leave a message on this post, on Facebook, or via email – ramblingtart at gmail dot com telling me about a door that you're especially fond of.
For an extra entry, share this link – https://www.ramblingtart.com/2014/12/15/old-doors-and-a-book-giveaway/ – on Facebook or Twitter and leave me another message telling me you've done so.
This giveaway will run until Friday, December 19 and is open to entrants worldwide. The winner will receive one copy of "portals."
Wishing you a wonderful week! xo
PS – Click here if you would like to purchase a copy of your own.
*****************************
Giveaway is now closed. The winner is Val from More Than Burnt Toast. Congratulations! 🙂 Your book will ship to you shortly. xo