It's a beautifully quiet morning at home after a wild storm blew in late yesterday afternoon. It's been wickedly hot and dry here in Queensland, so when we looked up to see heavy, dark clouds on the horizon, we hoped for rain but held that hope in an open hand.
Much to our delight, the first drops fell just as we were nearing home from a day in town, and as we pulled up to our gate, I jumped out to open it and got gloriously drenched.
We made a mad dash for the house as almighty gusts hurtled rain at us in sheets, and decided instantly that our afternoon break must be held on the back veranda.
Bear poured us icy glasses of homemade green apple soda while I topped old tin plates with treasures from our stop at the bakery. Then we settled back to enjoy the storm.
We sat quiet and comfy in our chairs, munching happily on apricot cream turnovers as the rain poured down.
When you've gone without rain for so long, there's nothing to be said when it finally comes. Your whole body takes it in, basking in cool swirls of wind that toss sprays of fragrant rainwater on weary skin. It is wondrous beyond words.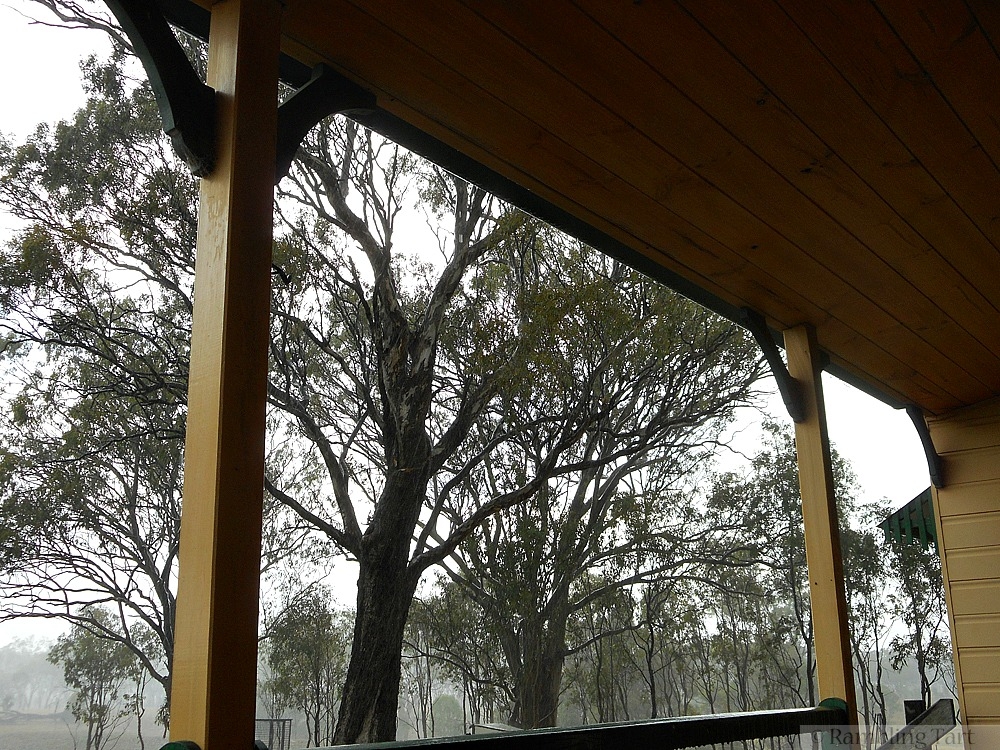 We watched in amazement as wood that had been dusty and bone dry moments before, suddenly sprouted tiny green shoots of lime green moss.
Lacy fans of lichen popped up on the railing as the cracked, dusty yard turned into a checkerboard of puddles.
The rain was accompanied by stunning streaks of lightning, sometimes three or more flashing at once, and massive cracks of thunder that shook the house. It didn't take long for our power to get knocked out, and we didn't mind one bit. As the power disappeared, our to-do lists vanished with it. Without electricity we couldn't do cooking or laundry, there was no writing of books or editing of photos, no using power tools or wood-burning implements. We could well and truly rest with nary a hint of guilt or pressure.
It was a truly delicious respite that restored our bedraggled spirits.
After our sojourn on the veranda, Bear got a brainwave for a project he'd been contemplating for months and dashed down to the shed to see if it would work. I seized the chance to start the new book I'd found at the dump shop, and made a cozy nest in bed right under the window where I could glance up to the storm in between tales. Soon I was shaking with laughter as I read one hilarious and ridiculous story after another.
What is your favorite thing to do when storms knock out your power? xo