The sun was nearly set by the time we crossed the border from Bosnia into Croatia. The drive was gorgeous, wending high above the glistening sea, hazy islands in the distance.
We were delighted to see the Villa Doris tucked into a peaceful little cove, waves lapping quietly on the rocky shore as the last rosy rays of the sun lingered on the whitewashed walls.
Our hostess was an amiable, trim little woman who welcomed us in, leading us through her terraced garden to our rooms overlooking vines, vegetables and fruit trees.
The balmy evening and cool sea were too great a temptation for the guys, and off they went for a late night swim in the bay of Stikovica.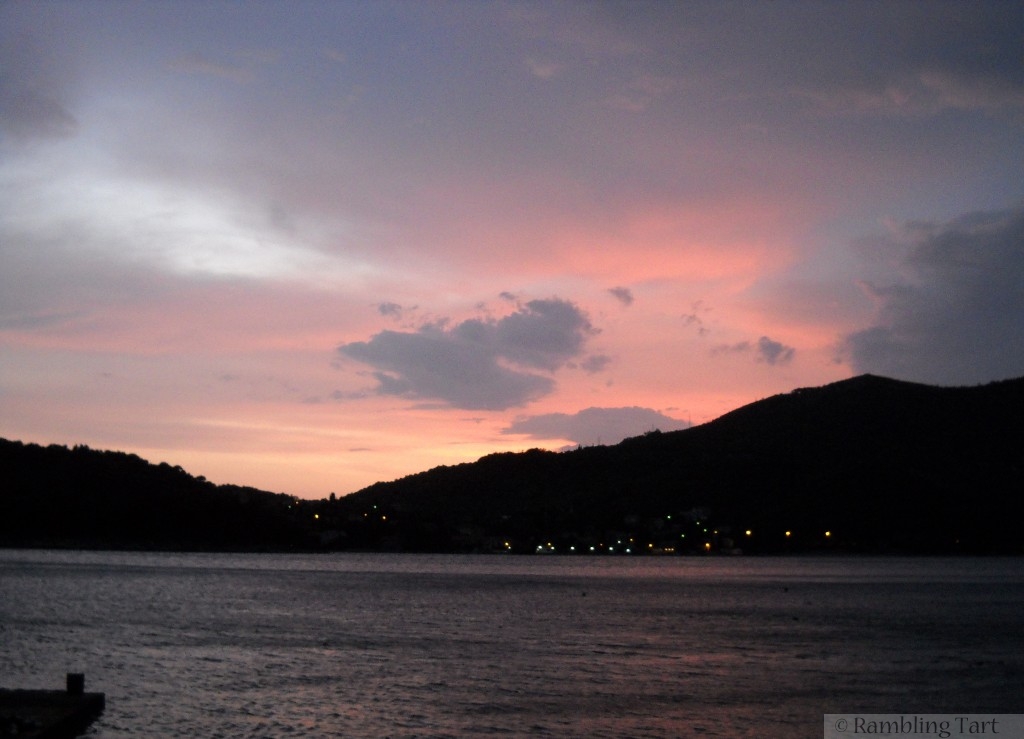 They hadn't been gone long when there was a ruckus next door and I was called over to see my brother Ryan who had, and I quote, "gotten into battle with a sea urchin and lost."
Poor guy stepped on one of those spiny critters with his bare foot then pulled it off with his bare hand ending up with palm and sole full of painful stingers that grew purple and angry looking. With very limited English our hostess explained there was nothing to be done except apply vodka and olive oil and wait for the spines to come out.
Ryan suggested that vodka taken internally might be even more effective.
The next few days we pampered the poor chap, applying oils and spirits, and I must say he was a trooper, soldiering on through treks and hikes though he must've been dyin.
The surest way to cheer my brother up is to lead him to a bakery first thing in the morning. So we did just that. Glossy cases held tender croissants, hearty loaves of bread, and traditional desserts like Sour Cream Kifle – a tender crescent roll filled with sugared walnuts.
Before long Ry was back to his jolly self, exploring the sites and cursing all sea urchins. I love my brother!
This is my contribution to Wanderfood Wednesday, hosted by Beth at Wanderlust and Lipstick.
Croatian Kifle
Ingredients:
1/3 cup sour cream
1 tablespoon water
1 envelope active dry yeast
1/2 cup butter, softened
2 1/4 cups flour
2 egg yolks
Melted butter or margarine
Powdered sugar
Nut Filling:
2 cups ground walnuts (I used pecans)
3/4 cup brown sugar
2 tsp vanilla
Directions:
Heat sour cream and water until warm then add yeast and stir until dissolved.
In mixing bowl blend butter and half cup flour, beat in sour cream until smooth. Add egg yolks and a quarter cup flour and beat until smooth, about 1 minute. Beat in remaining flour to make a soft dough.
Knead dough on lightly floured surface about ten minutes.
Divide dough in thirds, wrap tightly in plastic wrap and chill for 24 hours.
Mix ground walnuts, brown sugar and vanilla until well incorporated. Set aside.
Dust counter with powdered sugar and roll each piece of dough to a 10-inch circle.
Spread one-third of nut mixture in center of circle to about 1 inch of the edge.
Cut each circle into 8 pie-shaped wedges and roll each wedge from wide end to point, curving into a crescent shape.
Place point-down on greased baking sheets. Brush with melted butter and bake at 375°F for 18 to 20 minutes or until golden brown.
Cool and sprinkle with powdered sugar.