If you dream of getting away from the hectic urban scene, enjoy nature, and have the desire to visit Europe in the future, consider an eco-tour for your next holiday.
What's an eco-tour? It's a general term for travel that minimizes or offsets the environmental impact of more traditional forms of travel. In other words, these are not your typical 50-person bus tours. If you like hiking, bicycling, kayaking, and especially viewing wildlife, these groups might be perfect for you. Imagine walking through beautiful forests or quaint farm villages, exploring medieval churches and castles, or catching glimpses of birds and wild animals in natural habitats.
What happens if you're grouped with other people who happen to be meat-eaters, can you still maintain your veggie diet? Absolutely! Thousands of people like you take these trips each year without issue.
It is in the interest of these eco-tour companies to provide you a memorable experience, and that includes meals and lodging. Since the tour groups are kept small – may be 8 or 10 people – they get to know you as an individual very quickly and be more responsive to your needs. The key is to ask lots of questions and communicate upfront and be as specific as possible before booking a trip.
What are some other elements of an "eco-tour" that make it different from other tours? For one, your guide may be a trained biologist or birding expert. You might spend overnights on an organic farm or a "green" B&B. Your trip fees might include a donation to local conservation charities. You might spend one day during your trip hands-on as a volunteer.
Here are 5 popular European eco-tours for your consideration.
Romania
Wait, what? Romania? Where the only non-meat choices are potatoes and…more potatoes? Not to worry. It's true that Romanians are big meat eaters, but they also enjoy organic farm-fresh produce. Many citizens follow certain orthodox religions with so-called "fasting" weeks during which they consume veggie-only meals. So they've created some tasty alternatives. There are hearty country-style vegetable soups, egg and cheese casseroles, beet salads, pureed bean dips or stews, and shredded cabbage pancakes with sour cream to enjoy. Desserts can be a sour cherry tart or gingerbread cookies.
This particular tour is great for wine lovers. Romania's soil and climate is perfect for growing wine grapes, and on this trip you will visit a number of different vineyards and sample locally produced wines and champagnes. Other days your guide will lead you through medieval-era fortified towns and castles built for kings and queens. A popular stop is Bran Castle – also called "Dracula's Castle" – because the architecture fits the fictional story. But the real-life 14th century Transylvanian prince known as Vlad Drakul never actually lived there. Visitors like it anyway, and the setting high in the hills is beautiful. Your overnights include small hotels and home stays with a farm family. Tour provider: Tours Romania www.tours-romania.ro
France
The French are world-famous for their cuisine, so a trip to France is appreciated by foodies everywhere. Vegetarian travelers may never want to leave…so many choices, so little time! Breakfasts are generally light – coffee with a croissant or crusty roll – or some yogurt with fruit. Traditionally lunch is the main meal and can include a bowl of onion soup or ratatouille with bread and butter. Dinner might be a slice of quiche or light crepe with mixed greens. Desserts can include custard-filled puff pastries or simply an elegantly baked pear. The French love their fresh herbs and regional wines.
On this tour you'll spend a week in the beautiful rural Provence region walking past fragrant fields of lilac and thyme. Your guide will explain the region's history and point out various plants and birds as you proceed up mountains trails and down into valleys. You'll stop by outdoor village markets filled with locally made honeys, cheeses, breads and fresh cut flowers. Your group will enjoy picnic lunches and winery samplings. Overnights will be spent in small boutique hotels with swimming pools and beautiful views.
Tour provider:  Country Walkers  www.countrywalkers.com
Portugal
Visitors love Portugal because it is pretty and very affordable. The people there are friendly even if you do not know a word of Portuguese! While not as advanced as some other European countries, vegetarians don't have to go hungry either. If your diet includes fish and seafood, you'll be in for a treat. If not, that's okay too. Most soups are vegetarian, try a delicious kale soup with cornbread. Other choices include a chickpea salad with onions and parsley or a fried breadcrumb-bean-cabbage mixture. There's plenty of fresh or dried fruits and nuts for snacking. And don't forget to taste the Port wines.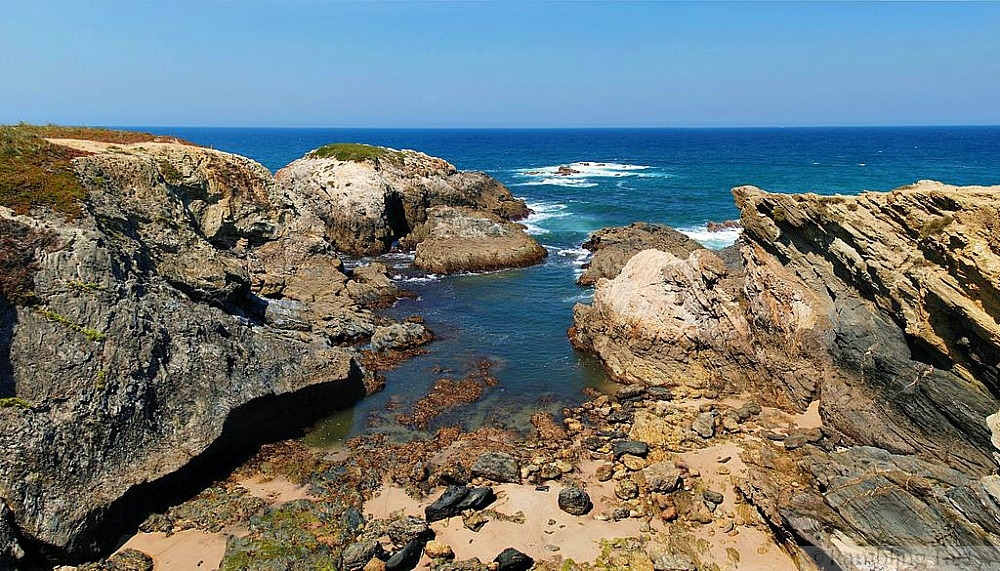 On this trip, you will join a group of other bicyclists and a guide for a week-long venture pedaling along the Atlantic Ocean coast. Some days you will arrive in quaint fishing villages with cobblestone streets. You will have time to knock about and explore. Another day you will tour a centuries-old monastery that is a UNESCO World Heritage site. Along the way, your group will stop at beautiful white sand beaches to relax and take an ocean dip. Above all, you will get a sense of everyday life for the people who reside in this section of Portugal. Your overnights are in comfortable boutique hotels. Tour provider: A2Z Adventures www.a2zadventures.com
Scotland
The United Kingdom is very vegetarian-friendly, and so it is with Scotland. Breakfasts are meant to be hearty and filling – typically you will be offered a bowl of hot porridge or oatmeal scones with butter and jam. Lunches can be lighter, perhaps a Scotch egg with a few salad greens. Dinner may begin with a leek or barley and mushroom soup, followed by smoked salmon mousse or the veggie version of haggis. Dessert could be shortbread cookies or a creamy pudding drizzled with whisky sauce.
On this selected walking tour you will spend a week in the famous Scottish Highlands national park region, an area of valleys, forests, freshwater lakes, and mountain plateaus. Your guide will explain the geological formations and history and point out interesting plants, trees, and birds as you trek ahead. You will see red squirrels, deer, the pine marten, grouses, foxes, and eagles. The fresh air and lovely views with open skies are revitalizing. You will find these 5 – 6 hour walks moderately easy with stops for breaks. Overnights are spent in small guest houses. Tour provider: Walkabout Scotland www.walkaboutscotland.com
Finland
The Finns love to start their mornings with a sweet roll and coffee. They are known for great cinnamon rolls and cardamom cakes. Hearty grains such as rye are popular in Finland, so lunch might be a spread of cream cheese and smoked fish on a thick slice of rye bread or cracker. Summer soups are often of the cold variety with peas and dill in a milk/cream base. Roasted rutabagas and mushrooms are common dishes. Desserts may include a light crepe with raspberry jam and vanilla sauce.
For this summer holiday, you and your group will spend a week in Hossa national park in northeast Finland where you will stay in lakeside log cabins. Your days will be filled with guided hikes through beautiful forests, canoeing in the lakes, picking wild berries, or trying your hand at trout fishing. Look for animals as you follow marked trails such as flying squirrels and owls…but don't hike alone as brown bears also inhabit these woods! Your guide will instruct you. Tour provider: Norwide Finland www.norwide.com
These eco-tour companies all offer English-speaking guides. But be aware there are some differences between companies. For example, some include airline tickets in the fees while others may not. Don't make assumptions; review each itinerary thoroughly and ask a lot of questions.
How to start your search? Use an online eco-tour directory like EcoTourLinQ. Here you can read more about the above-mentioned tours plus many others. Use the Search drop-down menu or type in the Search box by country name. The resulting pages will offer button links to specific eco-tour companies – click on any button and the eco-tour website will open in a new tab. www.EcoTourLinQ.com
The Author: Deborah Regen is an American writer and educational media producer.
Sponsored by EcoTourLinQ