Hello luvs. 🙂 I can't thank you enough for your kind comments, emails and messages you flooded me with yesterday. You mean so much to me and your words and love have helped me through this overwhelming and daunting time.
A good sleep does wonders and I'm feeling much better about things today. Life is still scary and unknown but my heart is at rest. I don't know what the future holds for me but I'm excited to find out. Big hugs to you and thanks again for your kindness.
I came home from work this week to find the bush outside my door absolutely covered in these cheery yellow blossoms. They were such a sunny contrast to the incessant rain we've had lately, and brought my neighbor lady out for a chat and a tour of her latest blossoms. 🙂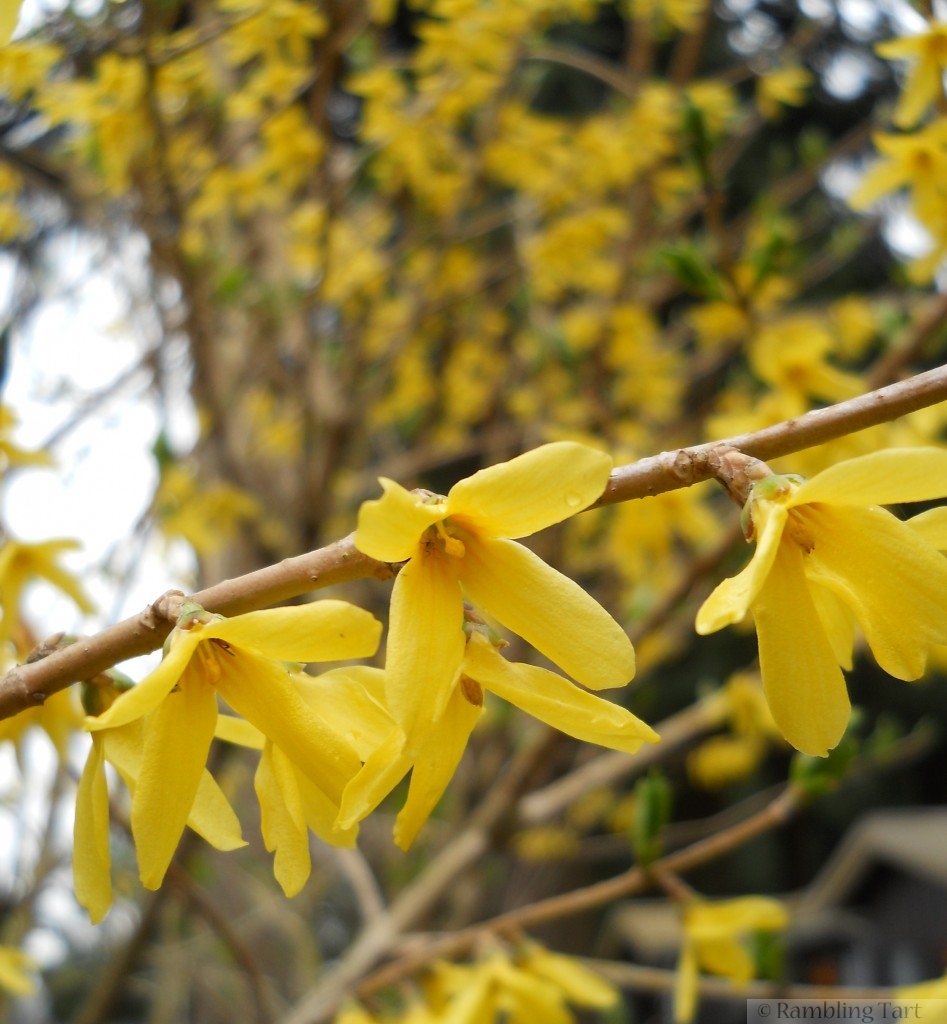 My doctor said it will take another week or so for me to recover from this Ecoli business, so this weekend will be one of naps and resting. I'm looking forward to it so much. I stopped by the library and have audio books (Rainbow Valley and Mrs. Pollifax), old movies (Zorba the Greek and Monkey Business), and a few new books (The Dragon's Apprentice and King Zog) to make my recovery delightful.
I will also have this decadent Dark Chocolate Mocha Tart with a lovely Maple Crust to celebrate being a few days closer to getting a whole lot better. In the past I've made it with regular cocoa, but this time I tried Hershey's Special Dark Cocoa and ohhhh mercy!! The filling is silky smooth and melts on your tongue with a lingering finish of rich, dark chocolate and a hint of coffee. Bliss!
What are your plans this weekend? What is your ideal dessert to spoil yourself with?
One more big hug and much love to you.
Dark Chocolate Mocha Tart with Maple Crust
Ingredients for Crust:
1 stick butter, melted
1/4 cup sugar
pinch salt
1 tsp maple flavoring
1 cup whole-wheat flour
Ingredients for Filling:
1/4 cup Hershey's Special Dark Cocoa
1 cup coconut milk
6 Tbsp sugar
1 1/4 tsp instant instant coffee or espresso powder
1/2 tsp vanilla extract
1 large egg, lightly beaten
Directions for Crust:
Preheat oven to 350 degrees F
Mix butter, sugar, salt and maple flavoring in medium bowl. Add flour mix until just blended. Don't worry if dough seems too soft.
Press all of the dough evenly into bottom and sides of 9-inch tart pan with removable bottom.
Bake 20-25 minutes, or until crust is deep golden brown.
Directions for Filling:
While crust is baking, place butter, sugar, cocoa powder and coconut milk in a medium saucepan and cook over medium heat, stirring, until mixture is blended, smooth and begins to simmer around edges.
Remove from heat and stir in espresso powder and vanilla.
Just before crust is ready, whisk egg thoroughly into hot chocolate mixture.
Directions for Tart:
Pour filling into hot crust and return to oven. Turn off heat.
Leave tart in oven until it quivers like soft Jell-O in the center when the pan is nudged, about 10-12 minutes. Cool on a rack.
Serve the tart warm or at room temperature.