Good morning, dear ones! 🙂 It's Friday at last and the sun is shining gloriously!! I do love Autumn in Washington. 🙂
The other night I had to slip out of the house to capture this pearly glowing sky framed by thousands of cedar fronds. It felt fairytale-ish, like I was looking at  a portal into another world. So beautiful. 🙂
Are you excited for your Labour Day Weekend? I sure am!! I get to drive down to Seattle to hang out with my brother, sis-in-law – hooray! We're going to go hiking and shopping then will soak our weary selves in their hot tub. Can't wait!! Tomorrow we get to meet up with dear friends at a fabulous Argentinian restaurant for great talks and all manner of delectable food. I don't think I've ever had Argentinian food, have you? Do you have any recommendations or "you-simply-MUST-try-this" ideas?
As a hostess gift for my siblings I'm bringing a Nectarine Blackberry Galette. It's baking as I type and ohhh, it smells so good! 🙂 I love galettes – a sort of free form pie. Simply roll out the dough into a circle, pile your choice of fruit in the middle, fold over the edges, bake and there you go!! Simple, easy, and so yummy. I made mine with a mix of whole grain, all-purpose, and semolina flours, and confess it has a bit of a blue tinge because I didn't have sour cream or yogurt, just blackberry kefir. 🙂 I mixed the fruit with real maple syrup, dotted it with butter, then brushed the dough edges with water and sprinkled them with sugar to give them a nice glittery crust.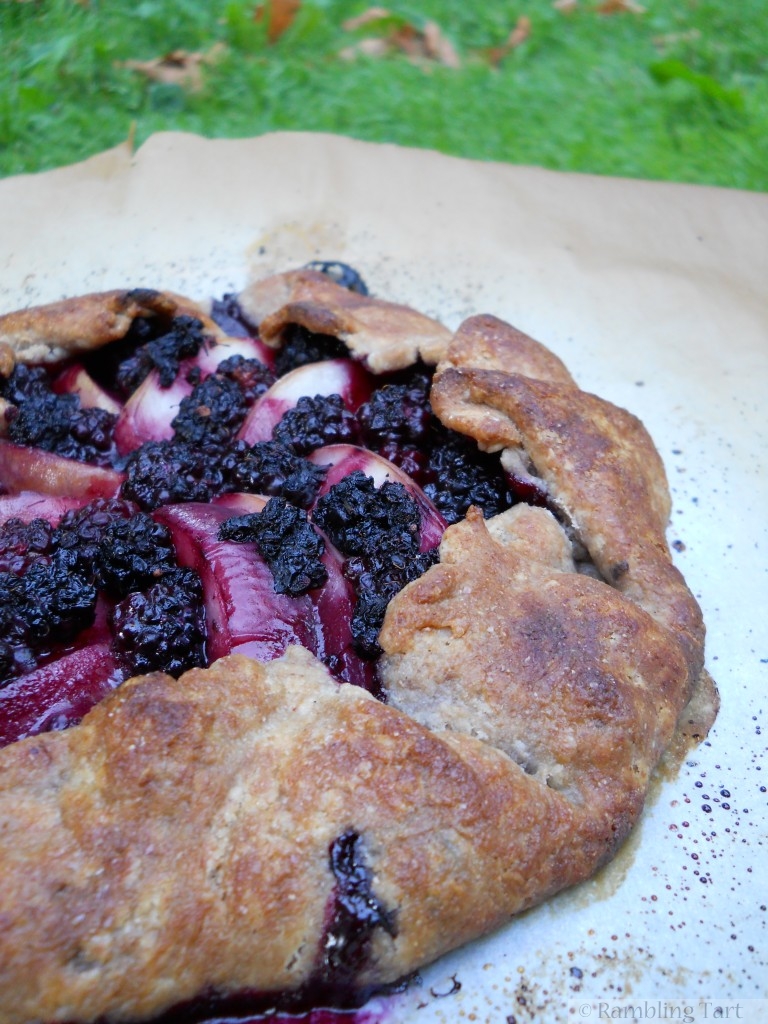 I hope you have a beautiful weekend, dear folks!! Talk with you soon! 🙂
Nectarine Blackberry Galette
(Serves 3)
Dough Ingredients:
1.5 Tbsp kefir (or sour cream, yogurt, buttermilk)
3 Tbsp ice water
1/4 cup whole wheat flour
1/4 cup all purpose flour
2 Tbsp semolina flour (or cornmeal)
1/2 tsp sugar
1/4 tsp salt
1/4 cup cold butter, grated
Dough Directions:
In small bowl mix kefir and ice water.
In large bowl stir together flours, sugar and salt.
Add grated butter and work into flour. You want a mix of small and pea-sized pieces.
Drizzle kefir/water over dough a bit at a time, tossing with a fork after each addition.
With hands gather dough into mound and press together into a disk. Wrap in plastic wrap and chill 2 hours.
Filling ingredients:
2 nectarines, washed, pitted and sliced
1 cup blackberries, washed
1 Tbsp maple syrup
1 tbsp butter, cut into pieces
1 tsp sugar
Galette Directions:
Preheat oven to 450 degrees F.
Roll dough out to about an 8-inch circle and place on parchment lined baking sheet.
In small bowl gently toss fruit with maple syrup to coat.
Pile fruit in center of dough, leaving a 1-2 inch border.
Sprinkle with butter pieces.
Fold dough border over filling, leaving center exposed. Brush pastry with water and sprinkle with sugar.
Bake for 30-40 minutes, until pastry is golden and flaky.
Using the parchment paper, transfer galette to cooling rack and let sit for 10 minutes.
Cut into wedges and serve at room temperature.