Good morning, dear ones! After a cold, cloudy day bits of sunshine are streaming through the clouds, brightening my world beautifully. 🙂 How are you?
I'm a happy camper because today is the BEST I've felt in three weeks!! HOORAY! Isn't hope a lovely thing? It's given me courage to press on another day with a big beamy smile.
Earlier this week my brother Dana took us all on a gorgeous Sunday drive. He's one of those crazy, amazing fellows who runs and will be entering the Bellingham Bay Marathon in September. So he thought it would be fun to drive the course and see what madness he was getting himself into. It was very fun!!
The course wends along beautiful Bellingham Bay, starting at the Lummi Indian Reservation and curving along the waterfront. If I was a runner (no sirree!!) this is just where I'd love to run.
It was the perfect day for a drive, dry and hot as blazes. Warm inland winds mingled with cool sea breezes as the sun beat down on us, glistening on the gently lapping waves. The view was a bit hazy with smoke from the terrible fires burning in Canada, but we could still see Mount Baker and Lummi Island. I do so love Washington. 🙂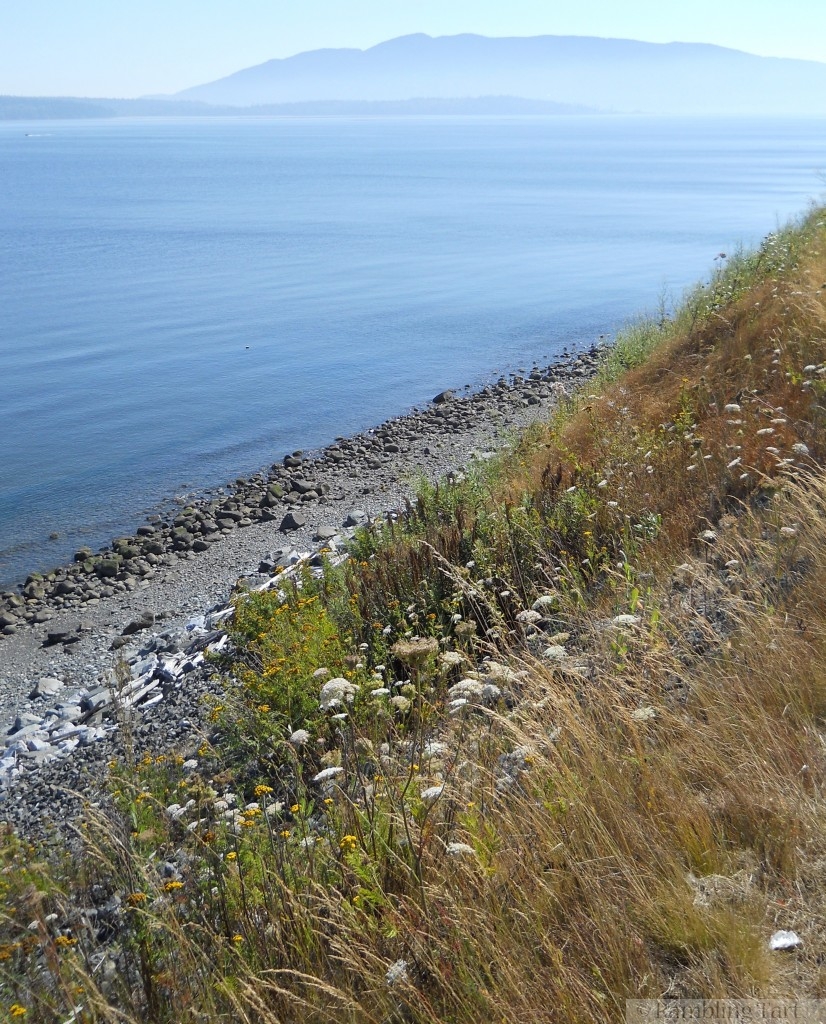 The heat inspired me to try another Virgin Bellini (I have to skip the alcohol for a bit while I get better, but substitute prosecco or sparkling wine for the seltzer water if you want the real deal). This time I blended ripe cherries and fresh lime juice with the seltzer water. Oh my! So fruity, zesty and delicious. The perfect cooling and refreshing drink on a piping hot summer afternoon.
What is your favorite hot weather drink?
I hope you have a beautiful weekend, dear folks! I'll see you bright and early Monday morning. 🙂
This is my contribution to Myscha's Happy Hour Friday. Click here to view other scrumptious summer drink ideas.
Virgin Cherry Lime Bellini
Ingredients:
1 cup cherries, pitted
Juice of one lime
1 cup chilled cup seltzer water (if you don't want it virgin, add prosecco or sparkling white wine instead)
Directions:
Puree cherries and lime juice with a bit of seltzer water until smooth.
Pour into glass, add remaining seltzer water, stir and garnish with lime slice. Serve cold.